Hi everyone! sorry about the absence, been trying to figure out what has been wrong with my shoulder and neck, thankfully with having the massage we have managed to figure out what is wrong, one of my major nerves along my spine was the culprit, pinched and damaged, but is fixable...what a relief, so with a few weeks ahead of massage I should be back to normal once again, in the mean time, lots of rest.
Today, is the start of a new challenge over at Simon Say's and this challenge should suit everyone, as the theme this week is all about Christmas, so you can create any Christmas card with no restrictions...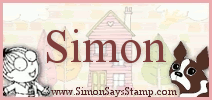 To view further details on the challenge all you have to do is click the picture below...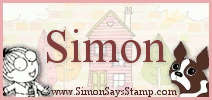 Now, there is always an awesome prize at the end and who wouldn't want to win....
So with that incentive and a way to get started on those Christmas cards, I cannot wait to see all your creations...
Here is the card that I created...
I took white card stock that was trimmed to size, stamped the Starry Sky that was inked with Jenni Bowlin, Soap Powder over the top and then stamped the Penny Black, Greetings from the Wise Owl onto the white card stock and coloured in with my Copics. Adding glitter to the Santa hat and also onto another piece of torn white card stock, adhering this to the bottom of the stamped card stock. Finally, adding a sentiment above the owl from the stamp set Get Merry and adhered to a blue trimmed card.
A quick card that sometimes is the perfect card to create for when we are rushed for time...
I cannot wait to see your creations, I need lots of inspiration from you all, so get those Chrissy stamps out and get inky...
Hope to see you all back here tomorrow!
Hugs