Hello everyone! so yesterday was my first official start back at work since having my injury..it wasn't too bad, quite sore though after being on my feet and my back was hurting by the time I made it home, but hoping that in time and with continual massages I will be starting to feel good again...lets hope!
Now before I start my afternoon duties I had better share today's card with you all, and with it being Wednesday, it is time for the new challenge to begin over at....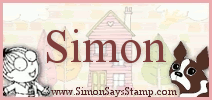 The theme for this week's challenge is to create a card all white with a coloured image...the DT gals are using white with a Magnolia coloured stamps...now I do have to say and I know that there are a lot of you out there that truly adore these stamps...but I struggle to do so..maybe it is the fact that they don't have a mouth on them, I really don't know why? You either like them or you don't, who knows maybe the more I create with them, maybe I will too begin to enjoy them, whilst they are cute they are not really my cuppa tea...so with that being said, I used the only Magnolia stamp that I posses and created a card for this week...
Lots of white card stock, layering, white embossing with the Flourish background stamp from Hero Arts, punched piece of card stock, white string and coloured Magnolia with sentiment completed my card.
Here is a close up view of the card...
Now to check out what the other DT gals have created and the details of the challenge, click on the flashing blinkie below...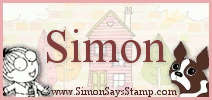 Remember if you enter you could win...
Okay, must leave this computer now and get some much needed jobs done!!
Have a wonderful rest of the day!
Hugs